«Foinikous Limin» (Foinikounta the Port)
Foinikounta is situated in the southwestern tip of the Peloponnese peninsula, in Messenia, between Methoni and Koroni. The municipality's population is approximately 600 habitats and it administratively belongs to the new municipal unit of Pylos-Nestoras. The village sits on a beautiful location with a great seaside front, and is notable for its magnificent sandy beaches. The most ancient reference to the region of Foinikounta is found on the clay tablets that were discovered in Mycenaean Pylos, in the palace of Nestor.
Material remains of an even more ancient inhabitation in the area have been discovered by American archaeologists who were excavating in the region during the 1960s. Remarkable discoveries have also been made by Professor Marinatos. Pausanias, the Greek traveller, mentions this region in his texts as well. He refers to Foinikounta as a port west of Cape Akritas, naming it "Foinikous Limin" (Foinikounta the Port).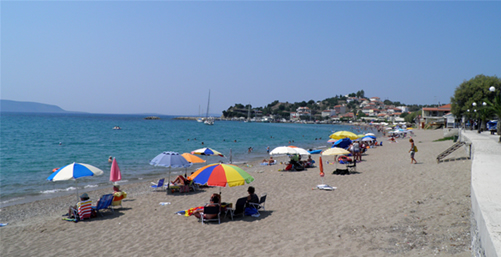 There are various references concerning the name of the village. According to the most prevailing one, Foinikounta took its name from the process of extracting Tyrian purple (a reddish-purple natural dye). In the wider sea area around Foinikounta, there was a kind of shellfish from which "phoenician colour" was obtained through a special process (E. Valsamides, Onomatologika C). Another theory suggests that Foinikounta was founded by the Phoenicians who settled in the coastline of the Peloponnese on this very spot. Thus, Foinikounta took its name by its founders, the Phoenicians. It should be noted that there is no historical documentation for the aforementioned interpretations.
More recently, Foinikounta started being gradually inhabited after the Greek revolution during the decade 1840-1850 by Cretan refugees, who were initially settled in the neighbouring village of Lachanada by the Greek State and were fishermen.  The town was initially called "Taverna" and was renamed "Foinikounta" in 1930. In 1928 and for a short period of time, it was called "Lachanada Beach".
Nowadays, Foinikounta has grown into a major tourist resort. It offers outstanding accommodation and a significant number of restaurants, cafeterias, bars and shops.