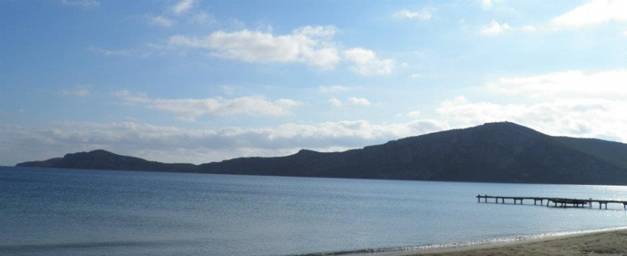 Divari or Chrisi Akti is one of the most well-known beaches of Pylia. It is an extremely long beach and it is included in the designated special protection areas of Natura 2000. Divari lies opposite the town of Pylos. Near the area where the beach spreads, the visitor will find the beautiful lagoon of Gialova where an interesting variety of flora and fauna exists. The beach is located after the built-up area of Gialova. You should keep driving on the county road and just c. 400-500 metres down this road you will see a sign on you left leading you to the beach.
On your left, you will see an organised camping site. After crossing a narrow bridge you will encounter the beautiful beach of Divari which spreads up to the Sykia Pass, the narrow water passage that divides the island of Sphacteria from the mainland city of Pylos, just below Paliokastro.
The beach is covered by fine sand and the waters are quite shallow; they are ideal for small children. On the spot where the turnpike road ends, lies the most organised part of the beach and a nice beach bar. Comfortable deck chairs, a bar for your coffee and lunch, and a small wooden pier where the tourist boats are stranded, are going to make your stay at the beach more relaxing and enjoyable!
At Divari Beach, various shipwrecks are still at the bottom of the sea, some of which are easily accessible to see and explore if you only wear on a simple sea mask. Close to the beach bar you will see the remains of an old ship (actually the bottom part of the ship) which is now home for many different species of fish. Another interesting attraction in the area is the Sykia Pass where you can enjoy the beauty of the seabed.
Glossa Beach spreads at the other end of the passage, on the islet of Sfakteria, and is definitely well worth a visit. To reach this place you should follow the dirt road to its end.
There is a spacious parking lot where you can leave your car. During your stay on the beach, please respect the space and do not leave any rubbish.