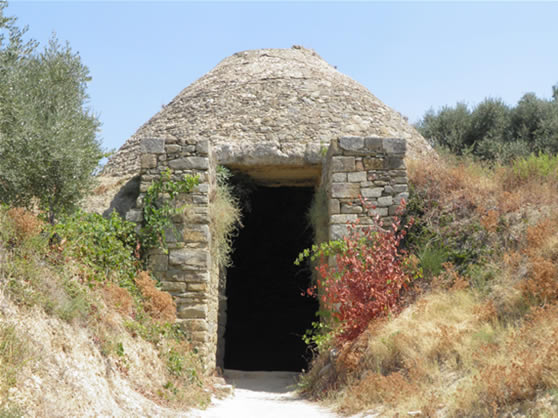 Near the palace of Ano Englianos lies the largest excavated Mycenaean vaulted tomb of the area. It was built in c.1550-1500 BC and was used throughout the 15th century, perhaps even until the early 13th century BC. It was a family tomb and it is estimated that it received at least 17 burials. Although it had been extensively looted in antiquity, the excavations brought to light interesting pottery and valuable small items. Some of them are now on display in the archaeological museum of Chora, while most of them are exhibited in the National Archaeological Museum of Athens.
Among those artefacts there are four golden plates in the shape of an owl and a golden seal depicting a griffin, the symbol of royal power. The presence of royal vaulted tombs in the area of Englianos proves that the hill was a large residential centre administering a wide territory in c.1500 BC.
The tomb was inspected in 1953 and its collapsed dome was restored in 1957 by the Greek Archaeological Service.
To access the grave you ought to follow the main road Pyrgos – Methoni and you will find the tomb on your right hand right after your exit Chora.