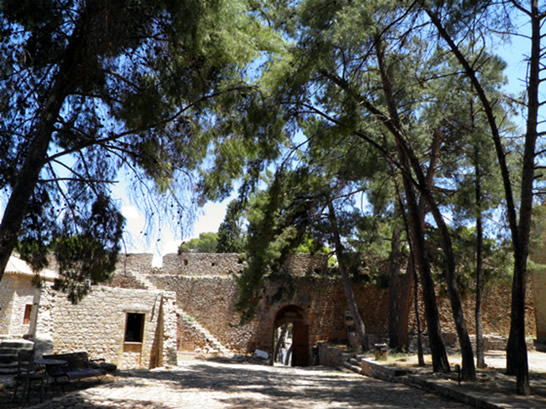 Niokastro or New Navarino is built on the hill above Pylos and is considered, along with Palaiokastro, the guard of the passage of the natural port of Pylos. The castle was highly developed and equipped compared to the old castle, intending to fully exploit the cannons, while simultaneously ensuring the greatest possible protection of the inner settlement and the fortification itself from the hostile fires.
It was built in 1573 by the Ottoman Turks who kept it under their control for more than a century. The construction of the new fortification started immediately after the defeat of the Ottoman fleet in the Naval Battle of Lepanto in 1571. The Ottoman dominance was followed by Venetian rule (1686-1715) and the very short Orlov Revolt in 1770. The final liberation came in 1821 with the Greek Revolution and the arrival of the allied French expeditionary forces.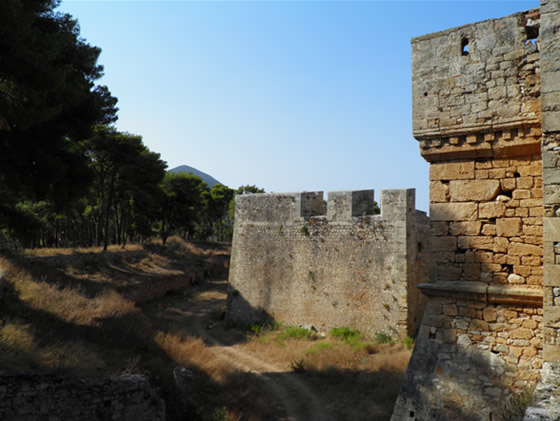 The robust and well-preserved castle is one of the best saved fortification constructions in our days. An abundance of architectural elements and the buildings themselves that are enclosed in its walls, reveal the path of Niocastro in time: the Turkish fortification, the quarters of General Maison, the later additions during the period of the second Venetian dominance and the church of the Transfiguration of the Saver (former mosque), along with the acropolis of the castle with its six walled sides and ramparts.
The great strategic importance of the fortress for the control of the passage in the entrance of Navarino led to numerous occupations of the area by various major powers during the centuries.
The castle has two entrances. The entrance that is found on the main street, turning right at the main road of Pylos towards Methoni, is the one used in the present days. The fortification has six towers (ramparts): the northern tower, the southern tower and the towers of St. Patrick, St. Agnes and St. Anthony. The tower known as Castello da Mare was built by the Turks for the protection of the area and was later embodied in the rest of the fortification,