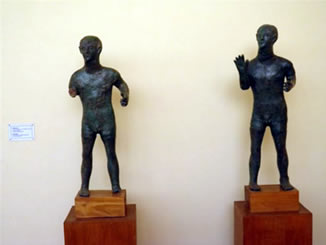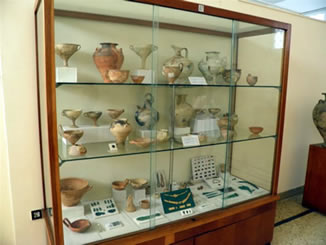 The Museum of Pylos is located in the city centre and is accessible from the road leading to Methoni, on the right of the Three Admirals' Square. You will see the museum on your right.
The museum's collections include archaeological artefacts which were excavated in the area of Pylia and dated back from the Neolithic Era to the Roman period. Among the exhibited artefacts, there is an abundance of votive gifts from the vaulted tomb found in Voidokilia and Koukounara, along with a plethora of vases, jewellery, spearheads, golden objects, animal representations in relief etc. Additionally, finds from Nisakouli in Methoni, Vlachopoulo, Tourlitida, Soulinati and Korifasio are also in display.
We had the chance to view and admire objects from the Hellenistic cemetery of Divari in Gialova. We were amazed by the beautifully painted glass pots, an astonishing golden belt, the magnificent statues of Dioscuri and the goergeous decorative representations on the earthen vessels.
Do not hesitate to ask the person in charge for more information. It is worthy of a visit!