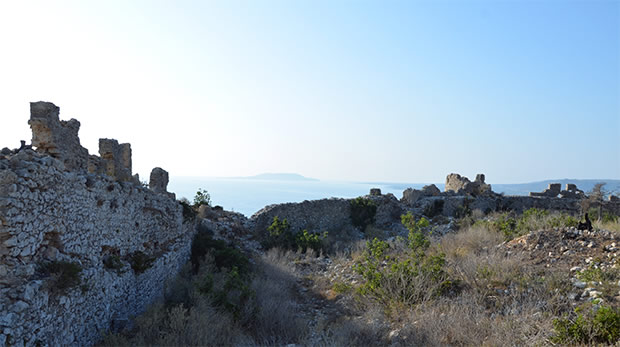 Palaiokastro was built in the 13th century A.D. by the Franks, in the area of ancient Korifasio, the ancient county town of Pylos. Later additions to the fortification were also made by the Venetians and Turks.
It sits atop an imposing rock formation above the cave of Nestor, guarding the beach of Voidokilia and the Sykia Pass which separates Palaiokastro from the isle of Sfaktiria. The high spot where the old castle was constructed, offers a unique view of Pylos, but also of the entire beach of Gialova and Navarino Bay. The altitude and position of Palaiocastro gave it great strategic importance. Thus, the naturally defensible site was considered a target of great importance for occupation by several foreign powers during the centuries. It was definitely ruled by the Genoese, the Venetians, the Franks and the Turks.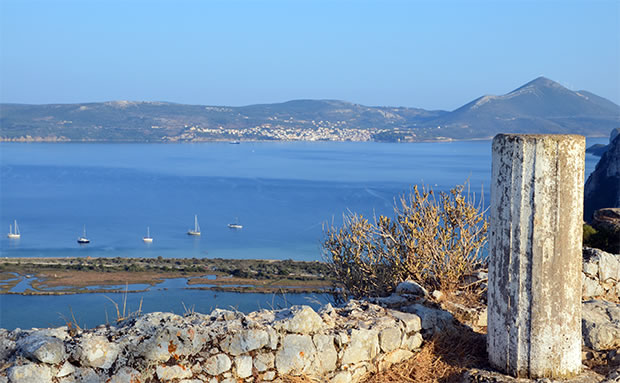 The castle was considered almost impregnable to its enemies – and sophisticated attackers, with an only accessible entrance; the one that was found on its south side, in the end of the pathway that starts from the beach near the Sykia Pass. What is more, the Sykia Pass was also very difficult to cross and conquer, as it was very narrow and the besieged ones were able to ward off their mightier enemies by using small cannons that were placed along the walls. Palaiokastro began to decline when the Turks decided to obstruct the Sykia Pass, the most important entrance to Navarino. Gravity fell on the other – larger – entrance of the bay, and on Niokastro (the new castle of Pylos), which was built to safeguard this very entrance.
In the interior of the castle, the visitor will walk around a large yard that used to host various buildings which unfortunately collapsed over the years. Your attention will also be caught by the existence of large troughs (attention is required when approaching them), which were used for the collection of rain water, as there was no well or other natural water source in the area.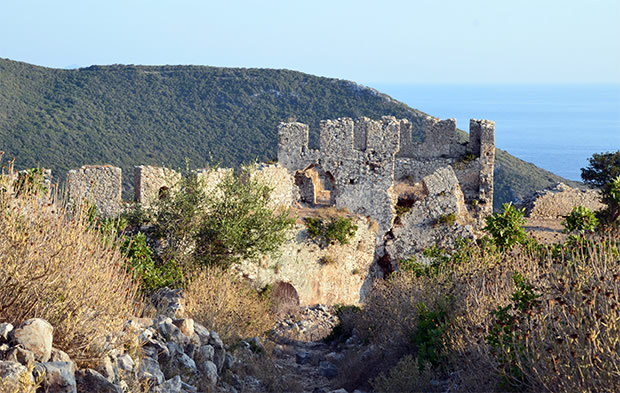 Nowadays, access to the ruins of the castle is not allowed, as at its entrance which is located at the end of Chrisi Akti/ Divari, there is high risk of parts falling from the fortification of the castle. There is an alternative way of accessing the castle, from the pathway that begins near the entrance of the cave of Nestor and leads to a hole in the castle's walls. You can access the castle from that hole.
A visit to Palaiokastro is a must-do for the visitors of Pylos! The great view that it offers will definitely impress them, while at the same time, the poorly preserved cultural heritage will create feelings of sorrow and grief for the cultural treasures that are being lost in time.
The exterior part of the fortification is gradually collapsing and the castle remains unexploited and is, practically, a forbidden sight for visiting. We hope this situation changes in the near future…